Justice Minister Anisul Huq. File photo of the star
">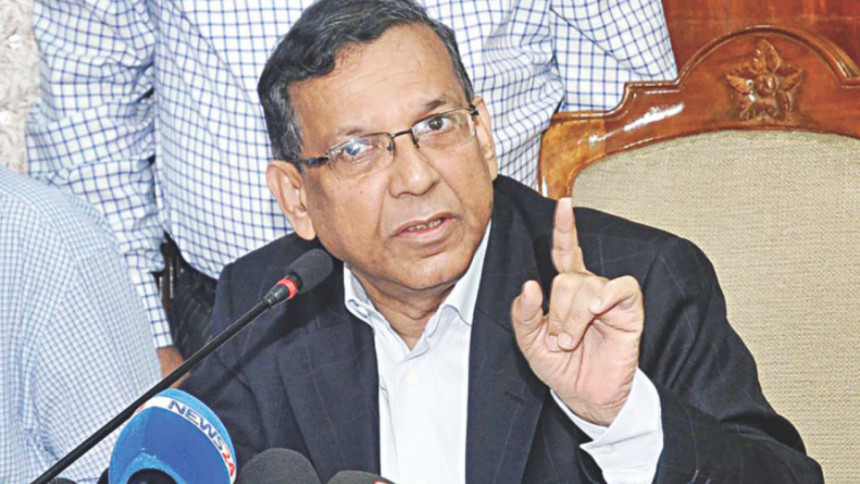 Justice Minister Anisul Huq. File photo of the star
Justice Minister Anisul Huq today said the government was seeking a legal framework to allow medical treatment of BNP Chairman Khaleda Zia abroad.
"Prime Minister Sheikh Hasina has considered the issues of Khaleda Zia's treatment from a humanitarian point of view. Two requests to allow Khaleda Zia to travel abroad were earlier rejected. Now we are considering whether he there is a possibility in this regard. A decision would be made looking at all aspects so that the law is not violated," he said.
Anisul Huq said this while answering reporters' questions after attending, as a key guest, a meeting on the occasion of the inauguration of the 25th Court Administration Training Course for District Judges and Sessions and metropolitan session judges at the Judicial Administration Training Institute (JATI) in Dhaka.
Earlier in the day, the Minister of Justice told the meeting that the government formulated the Digital Security Act to prevent cybercrimes, not to prevent freedom of speech or freedom of the press.
Eight cyber courts have been set up in eight divisions across the country to try cases related to cybercrime, the justice minister said, adding that district judges will have to oversee the functions of cyber courts.
The Director General of JATI, Justice Nazmun Ara Sultana, chaired the meeting during which the Legal Secretary, Md Golam Sarwar also spoke.