Justice Minister Anisul Huq. Star file photo
">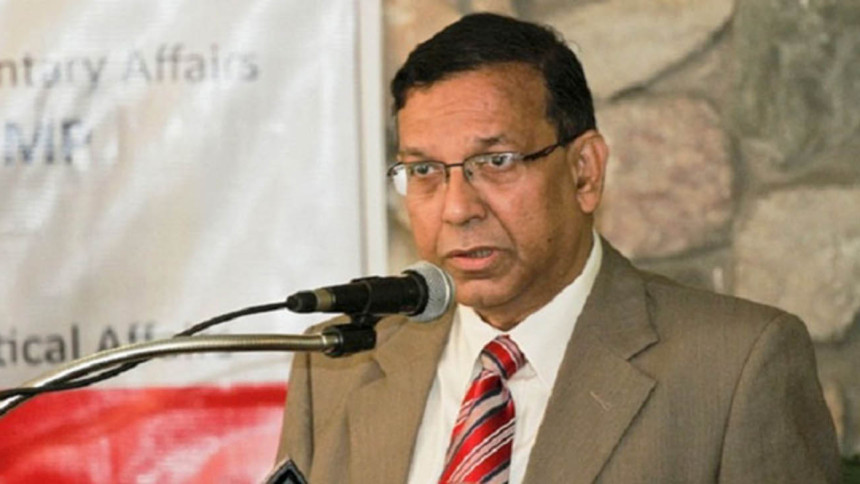 Justice Minister Anisul Huq. Star file photo
Justice Minister Anisul Huq said today that the price of edible oil will come down to some extent shortly as the government has taken measures to keep the price under control.
"The price of edible oil has been going up around the world lately – something not seen in the last 40 years. This has impacted the Bangladesh market. I think the price will soon come down due measures taken by the government. People should be patient," he said.
The minister made the remark while answering questions from journalists at the Kasba Upazila Parishad auditorium in Brahmanbaria, where an extension meeting of the Upazila Awami League was held. Anisul Huq addressed the meeting as the main guest.
Responding to another question, the Minister of Justice told reporters that the Electoral Commission, which was formed in accordance with the law, has taken up its responsibilities.
"I believe that the Electoral Commission will organize the Zila Parishad (district council) elections from their early work. The government will amend the relevant law in the interests of the election if necessary," the minister said.
Local Awami League leaders Majibur Rahman, Mahabubul Bari Chowdhury Mantu, Md Shah Alam, Rashedul Kawsar Bhuiyan Jiban, MJ Hakkani and Emran Uddin Jewel among others were present at the meeting.